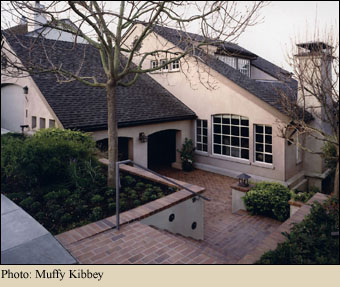 Welcome to Graff Architects!
Since 1986,* we have been creating custom architectural design for homeowners and small businesses throughout the East Bay, in the communities of Berkeley, Oakland, Piedmont, Kensington, Orinda, Lafayette, Moraga, as well as outlying areas stretching as far afield as Tahoe.
During the two decades that our core design team—Grier Graff, Rick Haier, Curt Holzinger, and Jeannine Chappell—has worked together, we have become known for our expertise in traditional styles that incorporate contemporary design and ease-of-use. These styles include Tudor, Mediterranean, Victorian, Colonial, Craftsman, Bungalow, and Modern.
There is no more important decision to be made than selecting an architect for your building project. Your architect becomes your translator, your interpreter, your guide, and oversees the entire project from conception to completion. He or she:
Interprets your vision, your wishes, and your ideas and translates them into architectural specifications and detailed drawings,
Guides you through the innumerable decisions that accompany a project,
Recommends professionals, craftspeople, contractors, and subcontractors based on long-established professional relationships, and finally
Oversees the entire project, ensuring that all involved—from the general contractor to the carpet layers—provide high quality services that are exactly to your specifications.
Whether a small remodel or new construction, Graff Architects is personally committed to your project from the initial design sketches through completion. In addition to full services, we also provide limited drawings and minimal construction observation according to your project and your needs.
____________________
*Previously with Christopherson & Graff Architects