WHY REMODEL WITH GRAFF ARCHITECTS?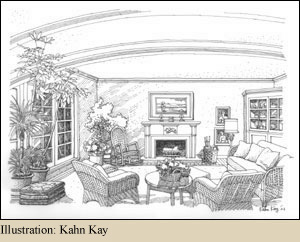 Over the years, Graff Architects has developed an expertise to provide contemporary design while staying within the bounds of the many traditional styles that are so popular and enriching to this area. Our current portfolio includes all architectural styles found in the Bay Area.
We offer the following services:
custom single-family residences
major additions
"remanufactured" houses*
small additions and alterations, both residential and commercial
(Please visit our Portfolio/Gallery page to view just a few.)
We offer what you're looking for.
Attention to Every Detail/Full Service
At Graff Architects, every detail is important. Our full services cover every aspect of the project in which "every nail has a name."
"A la Carte" Services
No project is too small for Graff Architects, and we understand finite budgets. As such, we offer various levels of limited services, as well as being called in as an adjunct to an interior designer or other building professionals.
Design to Enhance Architectural Style
Whether we're working with your own home or a commercial facility, we are committed to developing a design that enhances the project—using the existing architectural style or a total change of character.
Design for Comfort in Combination with Timeless Character
Many of our clients wish to maintain the timeless character of a traditional architectural design replete with all its defining characteristics down to the smallest detail, thus evoking the emotional comfort of the past. At Graff Architects, we welcome the opportunity to preserve the beauty of the past, while creatively making use of modern materials and state-of-the-art features.
Design for the Individual Taste and Lifestyle
Although always with an eye towards the aesthetic, we also are very attentive to your individual tastes and lifestyles. There are many options available that allow for traditional style while addressing contemporary lifestyles.
Long Experience Working with City Government Planning and Building Agencies
It is well known that building projects can be delayed—sometimes indefinitely—when presented to local agencies for review and the issuance of permits. It is here that our 20+ years of business in the largely "built-out" East Bay communities (i.e., Berkeley, Oakland, Piedmont, Kensington, Orinda, Lafayette, and Moraga) give Graff Architects the upper hand. We are intimately acquainted with every community in the East Bay and are therefore able to skillfully integrate new work or additions within the context of the neighborhood and local community.
Working in Accord with Neighbors and City Zoning Officials
When preparing for a new project, we often consult with zoning officials and listen to neighbors to ensure that the final design is acceptable to all interested and impacted parties.
Many Hands, Many Relationships
A successful and efficient building project requires an integrated team made up of skilled professionals and craftspeople. We at Graff Architects take on the challenge and responsibility for coordinating and integrating this broad-based team that will include owners, architects, engineers, landscape architects, interior designers, a general contractor, and myriad and various subcontractors, all of whom are needed for the successful completion of your project.
____________________
*A remanufactured house is the upgrade of the entire residence, encompassing the structure (foundation and seismic retrofitting), creating a modern floor plan, as well as upgrading all systems (plumbing, electrical, etc.). Upon completion the house is both safer and more functional.